Welcome to Friday Night Flights for 25 May 2018!
This is the third installment of "Friday Night Flights," where we drink two wines blind and give you the scoop.  One will always be from Germany, and the other can be from anywhere, but we choose them to be comparable on varietal and price point.
Wine A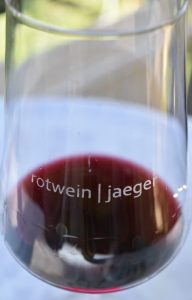 This week's Wine A is medium ruby in color.  The nose offers blackberries and black cherries and definitely has some mushroomy/forest floor and green asparagus overtones.  There's a bit of clove, and I suspect that it is matured partially in new oak.
The palate offers a bit more black cherry than on the nose, with blackberries, and a bit of cassis.  The smooth and integrated tannins are on the high side of medium, with high acid.  Overall the wine has nice (medium-plus) body.  The finish is a bit disappointing, but not unpleasant.
I find the wine to be well-structured with a nice balance between acid, tannin, and fruit.  There is clearly aging potential here, probably for 10 years or more.
Wine B
Wine B is a bit lighter in color, with definite hints of garnet on the rim.  The nose gives substantially more evidence of new oak than Wine A, with notes of toasty vanilla.  The fruits here are a bit more pronounced than in Wine A, with a mix of black fruits (black cherry and blueberry) and red fruits (raspberry).
The palate offers the same lovely mix of fruit along with white and black pepper.  The smooth tannins here are perhaps less pronounced than in Wine A (medium rather than medium-plus), but there is also high acid.  The fruit is more pronounced than in Wine A here as well, but with similarly high acid.
Wine B has a lighter body (medium) than Wine A, but a longer finish.   There is still aging potential, but it is probably less than Wine A, which is more tannic.
Click here to see what we were drinking…