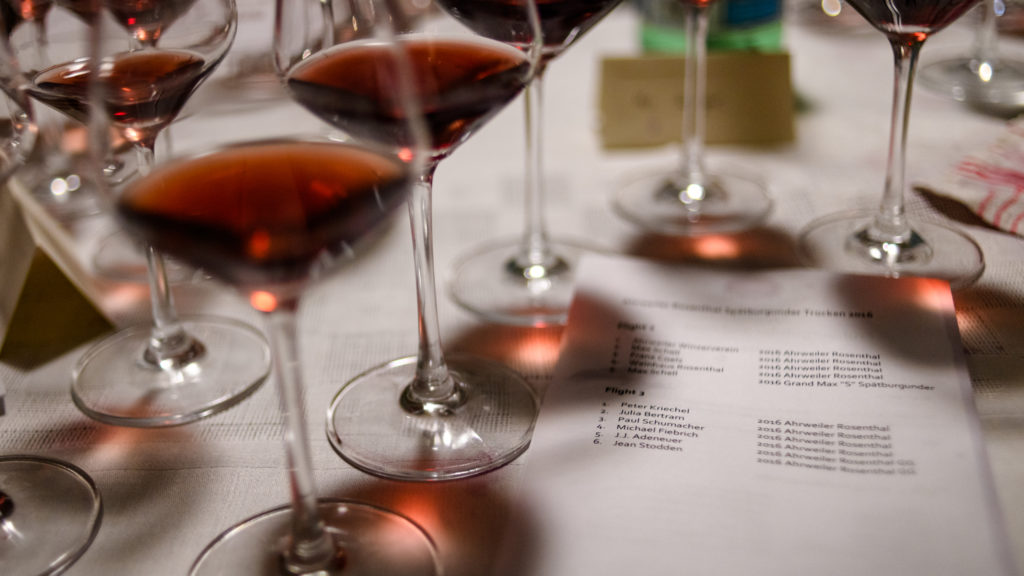 We invited a passel of our wine friends to our apartment in Washington Heights last Friday (2 November) for a tasting of wines from the Ahrtal — a selection of Frühburgunder and then all of the dry Spätburgunder from the Rosenthal that I could identify. Although I've been blogging for a few months, this served as a de facto launch party for rotweinjaeger.com.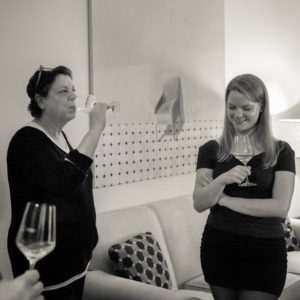 The Ahrtal and particularly the Rosenthal vineyard hold a special place in my personal wine history. The first wine from the Ahr that I found totally captivating was the 2007 Rosenthal from J. J. Adeneuer. It remains one of my favorites. The Ahr is the wine region that I know best, and I count several of the producers there among my friends. So a tasting of Ahr wines was a natural for a tasting to celebrate and promote the blog.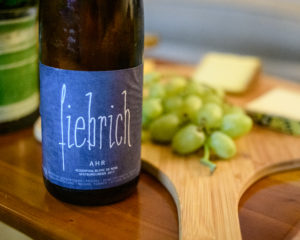 Although focused on Früh- and Spätburgunder, we served two Blanc de Noirs from the Rosenthal while folks were gathering. The first, a 2017 from Weingut Franz Coels, was light and refreshing, with great acid and very nice fruit. More unconventional was the 2016 Rosenthal Blanc de Noir from Weingut Michael Fiebrich. This Blanc de Noir was aged in oak (2nd use barrique), which imparted a steely depth to the wine that one does not usually expect from Blanc de Noir. This is a wine that would pair well with substantial dishes like pork loin or game that one might normally pair with a medium bodied "Noir." Many of our guests were really taken by this wine as something out of the ordinary but totally delicious.
First Flight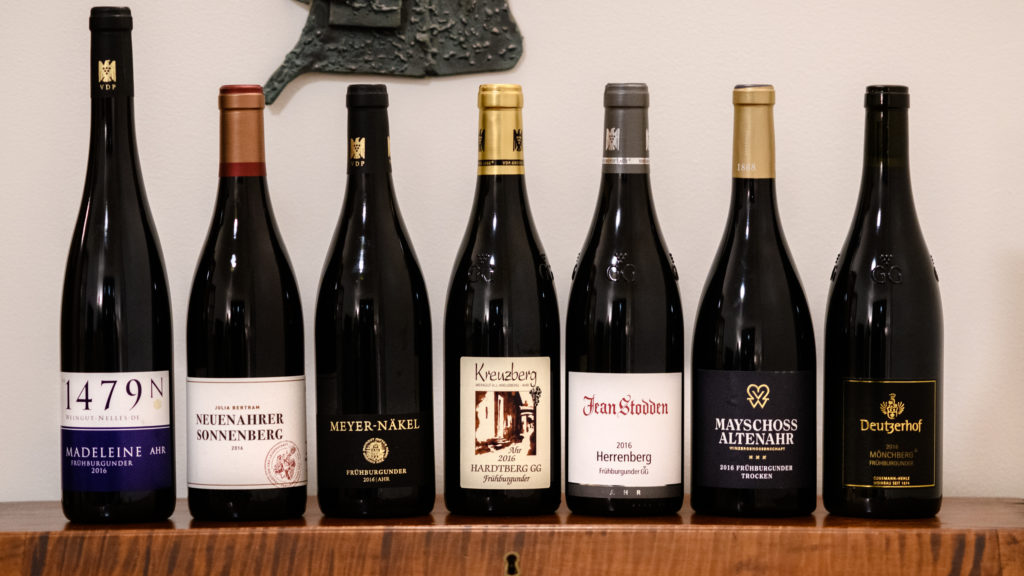 Once our guests, a mix of New York wine folks and wine-friendly academics, had all arrived, we sat down for the first flight. I had picked a variety of Frühburgunder (an early-ripening mutants of Pinot Noir, also known as Pinot Madeleine or Pinot Précocce), to reflect both the geographic diversity on the Ahr as well as to represent the four VDP vintners who do not produce wine from the Rosenthal. In my experience Frühburgunder exhibits a lovely fragrant nose and is a bit more delicate on the palate than Spätburgunder. The 7 wines were:
| | | |
| --- | --- | --- |
| 1. | Nelles | 2016 Madeleine |
| 2. | Julia Bertram | 2016 Neuenahrer Sonnenberg frühburgunder |
| 3. | Meyer-Näkel | 2016 Frühburgunder |
| 4. | H.J. Kreuzberg | 2016 Dernauer Hartdberg Grosses Gewächs Frühburgunder |
| 5. | Jean Stodden | 2016 Recher Herrenberg Grosses Gewächs Frühburgunder |
| 6. | Mayshoss-Altenahr Winzergenossenschaft | 2016 Frühburgunder Goldkapsel |
| 7. | Deutzerhof | 2016 Mayschosser Mönchberg Grosses Gewächs Frühburgunder |
Opinion in the group was a bit divided about the top wine in this group between the Jean Stodden and the Deutzerhof. Both exhibited notable but restrained use of oak with vanilla and cherry on the nose. My personal favorite was the Deutzerhof for the complexity of the nose and a great palate of red fruits with nutmeg and pepper notes. If anyone still doubts that German red wine can favorably compare to those from elsewhere while still remaining "Spätburgunder" at heart (as distinct from Pinot Noir), then they should try this wine. It is absolutely world class.
The Meyer-Näkel also captured some accolades with strong ripe strawberry on the nose and palate. The nose on the Nelles Madeleine was beautifully floral and the palate showed good fruit, but the finish was a bit disappointing.
The Dernauer Hardtberg from Kreuzberg was well-integrated, with balanced use of oak and good fruit, with a touch of baking spices on the palate. It's a delicious wine.
Julia Bertam's Sonnenberg was perhaps a bit closed (these are all young wines after all), but showed potential with nice red fruit balanced with decent acid. Julia, a former German Wine Queen, is one of the few Ahr vintners whose wines can sometimes be found here in New York (some of her wines, although not this wine, are imported to the U.S. by Schatzi Wines). She has been producing wine under her own label since the 2014 vintage and is already one of the best-known producers on the Ahr.
The Frühburgunder Goldkapsel from the Ahrweiler-Mayschoss Winzergenossenschaft was perhaps a bit overshadowed by the other wines in the flight, but it is clearly a well-made wine probably best enjoyed over the next few years. The group thought that the Nelles, Stodden, and Deutzerhof had good aging potential. I would add the Kreuzberg to that list.
Second Flight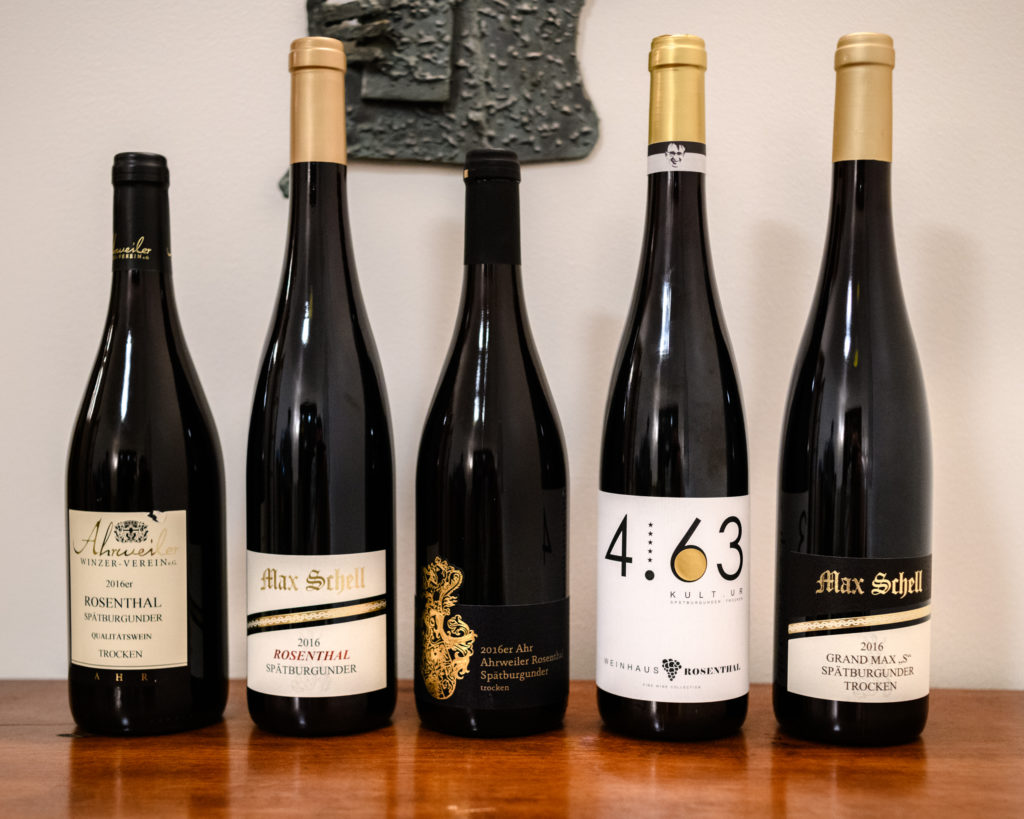 The second and third flights presented dry Spätburgunders from the Rosenthal. The Rosenthal is one of the premier (and largest) vineyards on the Ahr with about 22 hectares under cultivation. It faces south and south west with the walled medieval town of Ahrweiler at its feet. The soil is primarily loam, but also with slate and graywacke.
I tried to present all of the dry Spätburgunders from the Rosenthal and was surprised at the number of producers and variety of wine produced there. Most of these wines are produced in tiny quantities (for those aged in barrique, mostly 1 barrique worth, or about 300 bottles). Assembling a full complement of Rosenthal's from older vintages would have been impossible, and I doubt that such a collection has been assembled very often, if at all, even in Germany. It was a privilege to be able to present these wines to a group of knowledgable wine drinkers in New York.
The second flight consisted of
| | | |
| --- | --- | --- |
| 1. | Ahrweiler Winzerverein | 2016 Ahrweiler Rosenthal |
| 2. | Max Schell | 2016 Ahrweiler Rosenthal |
| 3. | Franz Coels | 2016 Ahrweiler Rosenthal |
| 4. | Weinhaus Rosenthal | 2016 Ahrweiler Rosenthal |
| 5. | Max Schell | 2016 Grand Max "S" Spätburgunder |
This flight represented producers that, I think, were totally unknown to any of the group, which included a few folks (including Karl Storchmann, NYU Professor and Editor of the Journal of Wine Economics) who know the Ahr well.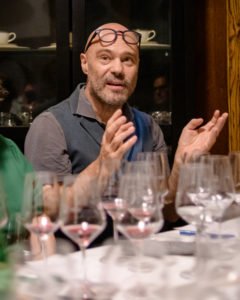 The standouts of this flight were, by nearly unanimous consensus, the two wines from Max Schell. Both showed beautiful "Pinot" noses and on the palate had a great balance of fruit and acid, with def use of oak. I personally found the Grand Max "S" to be a tick more lively. These were both outstanding wines that show the hand of a very skilled wine maker. Wolfgang Schulze-Icking, the winemaker who owns Max Schell with his wife Katarina, provided the wines to me before they are released to the public, but they were both were already drinking quite well. Bravo!
The least expensive wine of the night, from the Ahrweiler Winzerverein, also won some hearts (particularly among the younger crowd at the tasting with a more limited budget) as a decent, drinkable wine at a fair price. I found the sour cherry palate to be a bit disappointing, but with cheese or a meal this would be a perfectly acceptable wine.
Franz Coels's Rosenthal was, in all honesty, a bit disappointing. I had tried it in Ahrweiler on the previous Sunday and found it to be surprisingly good, with a decently aromatic nose and a rounded and fruit-filled palate. There was some discussion in the group about whether the bottle was flawed (I'd unfortunately left the second bottle I'd purchased back in Germany), and so I am loathe, given my earlier experience, to draw a definite conclusion about the wine based on this tasting. The wine in our glasses was a bit lifeless and thin, unfortunately.
Weinhaus Rosenthal is the brainchild of Michael Lang, who runs the Ahrwein Depot in Ahrweiler. This is the first vintage in which he has produced his own wine. He uses Max Schell's Weinkeller but during a recent visit to Ahrweiler he assured me that he did all of the work himself in the production of the wine. The wine was good, certainly for a first effort, but not great. At a price point that exceeds Adeneuer's Grosses Gewächs from the Rosenthal, however, it's hard to recommend this wine too strongly, and I think Michael has oversold it a bit on his website and label. Having his likeness on the capsule is also a bit goofy. In my opinion the two wines in this flight from Max Schell are much better in an absolute sense and also offer a substantially better value for their quality.
Third Flight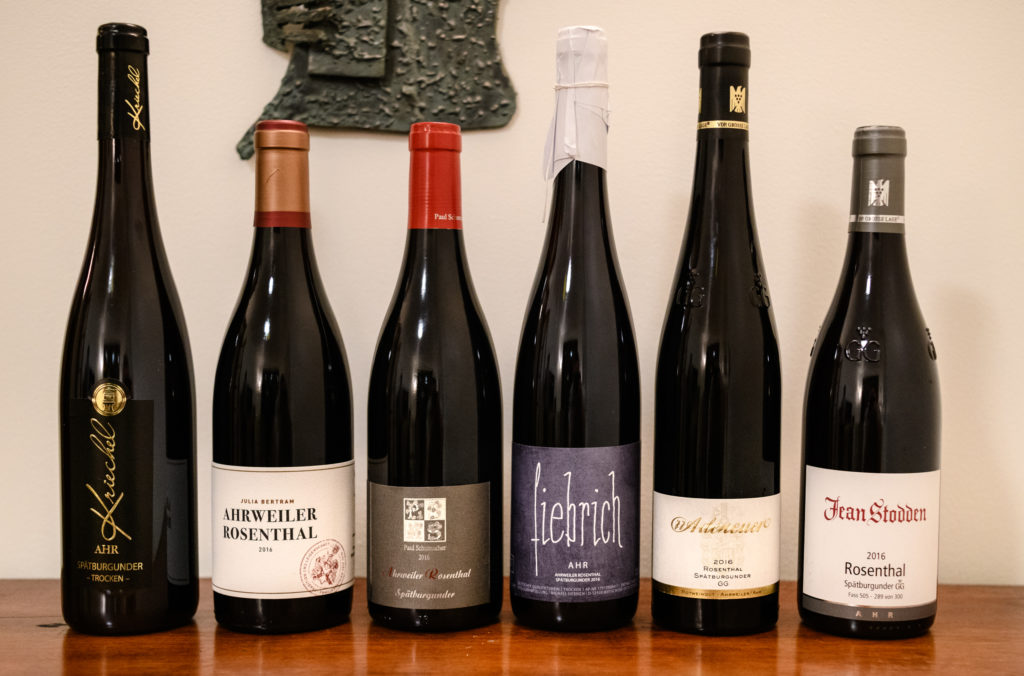 The third and last flight included the two Rosenthals produced by VDP producers Jean Stodden and J.J. Adeneuer, as well as Peter Kriechel, Paul Schumacher, and relative newcomers Julia Bertram and Michael Fiebrich:
| | | |
| --- | --- | --- |
| 1. | Peter Kriechel | 2016 Ahrweiler Rosenthal |
| 2. | Julia Bertram | 2016 Ahrweiler Rosenthal |
| 3. | Paul Schumacher | 2016 Ahrweiler Rosenthal |
| 4. | Michael Fiebrich | 2016 Ahrweiler Rosenthal |
| 5. | J.J. Adeneuer | 2016 Ahrweiler Rosenthal Grosses Gewächs |
| 6. | Jean Stodden | 2016 Ahrweiler Rosenthal Grosses Gewächs |
These six wines, all excellent, showed a remarkable variety considering that they are all produced with fruit from the same vineyard and are from the same vintage. Roughly speaking, there was consensus that the wines could be grouped into two groups of the first three (Kriechel, Bertram, and Schumacher) and the last three (Fiebrich, Adeneuer, and Stodden). I perhaps should have randomized the order in which they were poured, but I think there was some sense in keeping the Grosses Gewächs Rosenthals for the end.
The Rosenthal from Kriechel, while good, was perhaps not quite ready for prime time, with a bit of a short finish. Peter Kriechel was very kind to provide a bottle to me before they go on sale to the and warned me that the wine probably would not show as well as it might with a year or two of bottle age. He also provided a bottle of his 2015 Rosenthal and I'll include it in a Friday Night Flights at some point in the near future.
Julia Bertram's Rosenthal is a very nice wine, with soft tannins and good fruit. The nose was perhaps not as stunning as some of the wines later in the flight, but this is a wine that will age nicely over the next few years.
The Rosenthal from Paul Schumacher was probably the most Burgundian of the wines of the evening with darker fruits and a rounder mouth feel, with some spice on the long finish. A very nice wine!
Michael Fiebrich is one of the smallest producers on the Ahr, making about 6,000 bottles total of all his wines, which are all organic. I recently visited some of his vineyards and his Keller (a blog entry coming soon). He does nearly all of the work on his wines himself (including tying the capsules to the bottles!) and they are truly a labor of love. His Rosenthal very much impressed the group with a lovely nose, wonderful fruit, and a great finish.
The last two wines of the night, both Grosses Gewächs were probably the favorites of the flight for the Group. Adeneuer's Rosenthal is the more delicate of the two and has been one of my "Lieblingsweine" for years. Those nose has floral and vanilla elements along with restrained cherry and raspberry. On the palate, it delivers a mouth-pleasing balance of red fruits with hints of baking spices and vanilla. The use of oak here is restrained but appropriate. This is a beautiful wine.
Stodden's Rosenthal was, for me, the star of the night, though, even though I am through-and-through an Adeneuer fan. For me this wine was in perfect balance between acid and fruit with silky tannins. The finish was tremendous and the nose was gorgeous — a wine one could sniff without sipping for hours. But why would you want to? This is a prodigious effort from Alex Stodden. What a shame that there are only 300 bottles made!
My impression from chatting with our honored guests was that they were extremely impressed with nearly every one of the wines. They were astounded by the variety coming from a small vineyard area so far north.
After a few wine-soaked hours, we were ready for dinner. We started with Pumpkin soup with pumpkin oil from Steiermark in Austria and toasted pumpkin seeds. Alison then provided risotto with Bergkäse paired with roasted Brussel sprouts and smoked salmon. It was spectacular and a perfect ending to a perfect evening!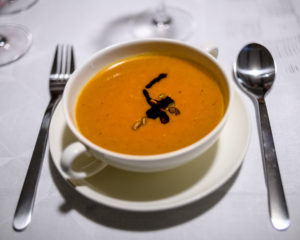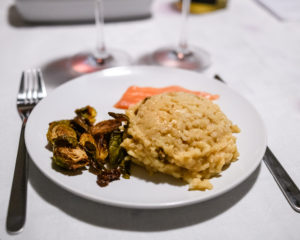 Thanks to all! In February there will be a tasting of (nearly) all of the Grosses Gewächs Spätburgunder from the Ahr — I'm very curious to see what folks think of them!

Photo credits: Mikhail Lipyanskiy